Little Boots blasts plastic surgery
By David Balls, Music Reporter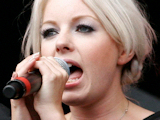 WENN
Little Boots has claimed that she would never consider having plastic surgery to defy the ageing process.
The 'Remedy' singer, real name Victoria Hesketh, blasted the procedure as "dangerous" after a friend passed away following an operation.
"I'd never go under the knife. Somebody close to me died as a result of having plastic surgery. I just think it's dangerous and there's no need," she told You magazine.
The star insisted that she has already spent a considerable amount of time maintaining her appearance.
"My hair colourist is on speed dial. I always leave my roots until the last minute, but when you are as blonde as I am there is quite a lot of upkeep," she said.
"Sometimes with all the glitter that gets put on my face, the only way to get it clean is with an indulgent facial."
Little Boots releases new single 'Remedy' on August 16.
http://www.digitalspy.com/showbiz/a167654/little-boots-blasts-plastic-surgery.html